When working in electrical applications, appropriate safety equipment is vital to protect workers from serious injury or death. Rubber insulated electrical safety gloves are one of the most significant types of personal protective equipment in these applications, as they help prevent injuries from electric shocks when working on energized equipment.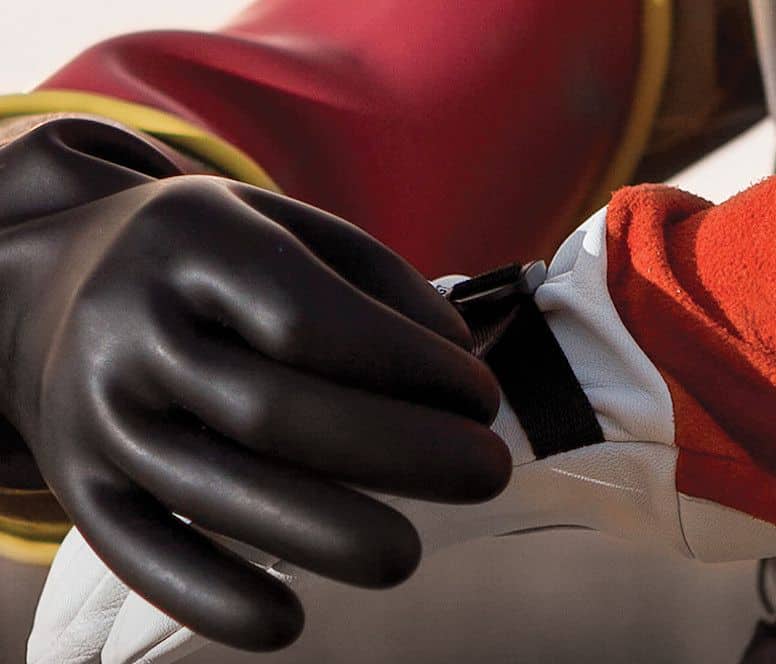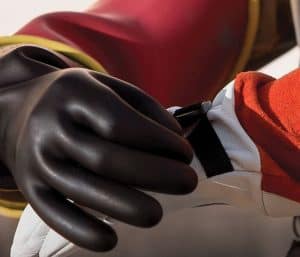 For over 50 years, Burlington Safety Laboratory has been a leader in providing testing services for insulated protective equipment.  Our facilities are accredited by NAIL for PET, and we continually meet or exceed the standards set by ASTM/ANSI, NFPA 70E, and CAL OSHA.  Additionally, we are a stocking distributor for the leading manufacturers of electrical PPE – Salisbury, Hubbell/Chance and Hastings.  Not only can we test your existing PPE to keep it in compliance, we can also provide new electrical PPE as needed.
What are Electrical Safety Gloves?
Insulating rubber gloves are one of the most important pieces of protection for electrical workers.  Sometimes referred to as lineman's gloves, electrical safety gloves are composed of highly dielectric, strong insulating rubber and are designed to protect technicians who are working on energized electrical equipment and power lines. These gloves are vital for the safety of electrical workers, as they prevent injuries from electric shocks. Due to their importance in employee protection, rubber insulating gloves must meet NFPA 70E standards and ASTM D120 specifications to ensure their efficacy.
Electrical safety gloves must also combine several properties to function. They must be strong and durable while also providing enough flexibility for the technician to work. They must also have dielectric properties. Typically, electrical rubber gloves will be categorized by their resistance to ozone and by the level of voltage protection offered. 
Electrical safety gloves are available in two types:
Type I gloves.

Type I gloves are composed of natural rubber and do not offer any ozone resistance. 

Type II gloves.

These are the most common type of electrical safety gloves. They are composed of synthetic rubber and offer ozone resistance. 
Advantages of Electrical Rubber Gloves
The primary advantage of electrical rubber gloves is employee safety. These gloves provide workers with protection from electrical currents during work on or near energized equipment. 
Due to the inherent risks of electrical work, OSHA and NFPA 70E standards dictate that workers must use electrical rubber gloves in any application where there is a chance of coming in contact with at least 50 volts AC. Additionally, the OSHA 29 CFR 1910.137 standard states that these gloves must be specifically rated for the voltage an employee may be exposed to. Manufacturers must clearly mark electrical rubber gloves to display their rating.
Manufacturers must also always test the gloves at a specified proof test voltage prior to releasing them for sale. Once the glove reach the end user, ongoing maintenance of the rubber safety gloves is required for worker safety. OSHA dictates that any technician using the gloves must inspect them for damage before every use and have them recertified at a NAIL accredited laboratory every 6 months during use.
Electrical Rubber Glove Applications
In any scenario where a worker may encounter energized electrical equipment, appropriate hand protection is vital. Maintenance technicians and electricians will often require electrical rubber gloves, particularly when working in any of the following fields:
Utilities and public works 

Gas and oil 

Transportation works

Automotive

Electrical maintenance

Elevator installation and repair 

Field services
Other industries and applications that commonly utilize electrical safety gloves include:
Amusement parks

Hospitals

Water plants

Manufacturing plants

Office buildings

Schools 
Hand Protection for Electrical Safety at Burlington Safety Laboratory
Appropriate hand protection is vital in protecting employees that work on energized electrical equipment. For over 50 years, Burlington Safety Laboratory has been testing and distributing personal protective equipment for use in electrical applications. We perform testing at our NAIL for PET accredited facilities, and our testing procedures follow all ASTM/ANSI, NFPA 70E, and CAL OSHA standards.
In addition to performing testing, we also stock protective equipment from an array of trusted manufacturers, including Hastings, Hubbell, and Salisbury. Our product line includes a diverse range of equipment to meet the safety needs of our customers. To learn more about our capabilities and insulating rubber glove offerings, contact us today.